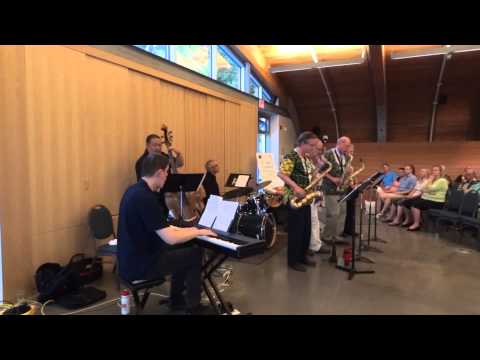 A Peck a Sec by Freddie Hubbard – jazz performed by Phil Dwyer Adult Camp 2012
Here are the students of the 2012 Phil Dwyer Academy of Music and Culinary Arts performing the Freddie Hubbard jazz tune, A Peck a Sec.
Alto Saxophone — Ian Clayton
Alto Saxophone — Neil Peters
Tenor Saxophone — Tim Kelly
Flugel Horn — David Esler
Drums — Bryan Niblock
Bass — Rick Reynolds
Guitar — Brian Chellas
Piano — Geoff Peters
with Special Guests on Tenor Saxophone: Eli Bennett elibennett.com/
Phil Dwyer phildwyer.com/
Recorded on August 10th 2012 near Qualicum Beach BC (VIU Deep Bay Marine Field Station): www.viu.ca/deepbay/
Special thanks to Neil Peters, Phil Dwyer, Eli Bennett, and my Aunt Mary!
Please visit: phildwyer.com for more information about music in Qualicum Beach and about our multiple-Juno award winning instructor and camp director, Phil Dwyer.
Video and audio recording by Geoff Peters geoffmobile.com
Thanks for watching!
Cheers,
Geoff
Technical Notes:
Audio recorded on a Zoom H1 using the unit's internal microphones in 24bit 48khz.
Camera: Sony Cybershot DSC-HX9V
Edited with Audacity and Adobe Premiere Pro on a Macbook and Windows 7 PC (Dell, Intel i7 and USB 3.0 for a faster workflow).
Sound and Video Recording by Geoff Peters geoffmobile.com
A Birds in the House Production
birdsinthehouse.com
Related Posts: