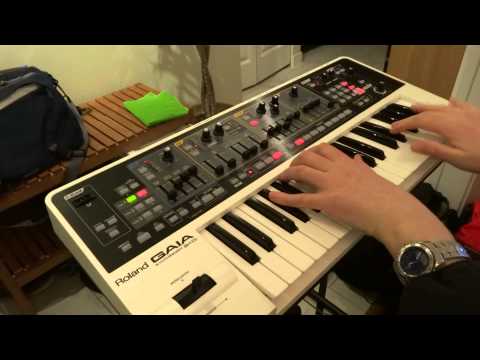 Wurlitzer sound on the Roland Gaia – how to make a classic Wurlitzer keyboard patch by Geoffmobile
Geoff from geoffmobile.com demonstrates a patch he created for his Roland Gaia SH-01 synthesizer that emulates a classic "Wurlitzer" keyboard sound.
For more videos from me, Please subscribe :) youtube.com/geoffmobile
The Wurlitzer or "Wurlie" sound I find is very useful when trying to blend smoothly with other instruments such as guitar, saxophone, or voice. It is more classic and acoustic sounding than some other more electronic-sounding leads. It is modelled after the classic Wurlitzer keyboard sold in the 1950's to 1980s. en.wikipedia.org/wiki/Wurlitzer_electric_piano
To download the Roland Gaia patch shown in this video (for Free ! :), please click:
geoffmobile.com/downloads/geoff-peters-wurlitzer-gaia-sh-01.gaia
To load this file into your Gaia, connect your Gaia to your computer using USB and use the Gaia Tool (linked below) to load the patch into your Gaia.
Also shown at the end of the video is a short tutorial on how to create this sound using the Gaia Tool.
Gaia Tool by Grauw:
www.grauw.nl/projects/gaia-tool/
Chords played in the demo song are from an original song by Gio Levy:
www.facebook.com/GioLevy
Thanks for watching!
Cheers,
Geoff
Technical notes:
Filmed on a Sony Cybershot DSC-HX30v, audio captured using Audacity (direct from SH-01 using USB) and a Zoom H1 / Sennheiser ME-2 lav mic for the voice. Edited with Adobe Premiere Pro CS5.5 on a Windows 7 Dell PC (Intel i7 and USB 3.0 for a faster workflow). Audio and video tracks were synced using Pluraleyes (fully licensed).
Related Posts: