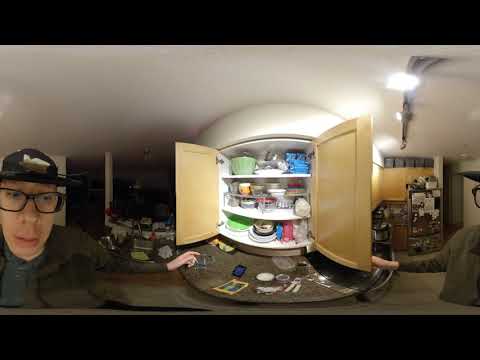 Raw Footage – Cooking Mac and Cheese in the Instant Pot in Real Time Baseball Cap 360 Camera ASMR
This is a 360 Video – drag your mouse or finger on the video to look around. Or view in VR for best experience!
In this video, I filmed the whole process of making Mac and Cheese in the Instant Pot.
Ingredients:
6 cups of water (or more, so that the pasta is covered in water)
900g bag of dry macaroni noodles
2 tablespoons of butter
1 tsp of salt
1 can of Evaporated Milk
1 tbsp of yellow mustard, or 1 tsp of rice vinegar
2 cups of shredded Lactose-free cheddar cheese (or regular cheddar works too)
Directions:
Add macaroni, water, salt, mustard (optional) butter to instant pot. Stir
Make sure there is enough water to cover the top of noodles
Set on High Pressure, manual mode, for 4 minutes.
After the instant pot finishes its cooking cycle, do a quick release and open the pot. No need to drain. Add can of Evaporated Milk on top. Add 1 tsp of rice vinegar. Stir. Turn the pot on Sautee mode, on low heat. Continue stirring and adding handfuls of cheese, melting it before adding another handful. After cheese is melted, turn off the instant pot, and remove the inner pot from the outer pot. Serve, or allow to cool slightly and put in airtight containers and store in fridge for up to 2 or 3 days.
Serves 6 to 10 people (depending how hungry you are). This makes a large quantity.
Notes about the video:
Filmed with an Insta360 One X mounted on a baseball cap. No editing was done – video was exported using Flowstate Stabilization and Lock Direction, and then concatenated using FFMPEG.
Best viewed in VR using Oculus Quest, Oculus Rift, or HTC Vive or newer headsets. Also viewable in Google Cardboard.
It's 30 minutes of unedited footage of me cooking a recipe at home, with the Insta360 One X mounted on my baseball cap.
I used "Lock Direction", "Flowstate Stabilization", ISO 800, Shutter 1/60, Incandescent WB, Log Mode OFF.
I used an external battery pack to power the cam so I didn't worry about the battery running out.
I am impressed by the low light performance (just normal indoor kitchen lighting was used).
This camera really shines with the manual settings. The sound quality is not the best – it seems that sudden loud sounds result in distortions.
In the future I would use a Lav mic and a separate audio recorder, and then sync it up in Post.
Comments appreciated! :)
Related Posts: