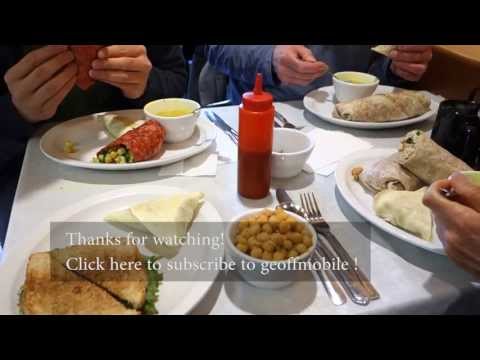 Yummy lunch @ Planet Veg restaurant in Kitsilano, Vancouver BC Canada
Geoff from geoffmobile.com visits Planet Veg restaurant in Kitsilano, Vancouver, BC Canada for a delicious lunch.
Please subscribe :) youtube.com/geoffmobile
Planet Veg Restaurant
1941 Cornwall Ave
Vancouver BC Canada
phone: 604-734-1001
Restaurant's web site: www.planetvegrestaurant.com
From their website: "Planet Veg Restaurant is a well established vegetarian fastfood restaraunt in the Kitsilano area. With an influence of Indian style cooking, you will find a wonderful selection of vegetarian, vegan, and gluten free choices on our menu."
Shown in video:
-Interior of restaurant including the menu boards
-Kashmiri Roti Roll combo
-Lentil soup
-Chick peas on rice
-It's delicious!
-I'm going in for it.
-The soup spoon.
-Grilled Aloo sandwich – very yummy! And healthy!
-A samosa
-Some more beautiful rolls
-The Jalepeno Cilantro
-Our rolls look very good! There's some rice in there.
-Thanks a lot for coming down!
-MMM!
See you next time!
Cheers,
Geoff
geoffmobile.com
Technical notes:
Filmed on a Sony Cybershot RX100
Edited with Adobe Premiere Pro CS5.5 on a Windows 7 Dell PC (Intel i7 and USB 3.0 for a faster workflow)
Related Posts: