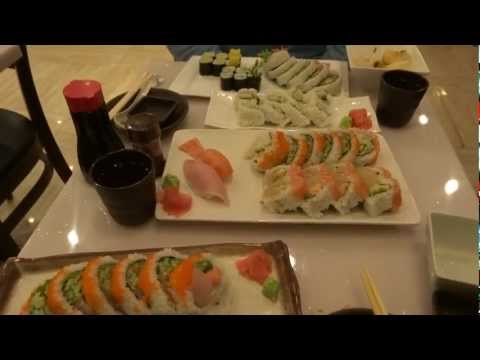 Yummy: Sushi California on West Broadway in Vancouver BC Canada, December 2012
Geoff from geoffmobile.com visits the new location of Sushi California in Vancouver to try some delicious Japanese sushi. Sushi California's Coquitlam location is still open – they just opened a new location in Vancouver!
Sushi California Japanese Restaurant
388 West Broadway
Vancouver BC Canada
phone: 604-873-8284
Shown in video:
-Interior of restaurant
-Spicy Agedashi tofu
-Ebi sunomono salad
-Miso soup
-Vegetable roll
-Kappa Maki (Cucumber roll)
-Oshinko roll (Japanese pickle)
-Avocado roll
-BC Combo: BC Roll and Alaska Roll, Salmon Sushi, Tuna Sushi
-House Roll
-Mmmmm! Very good :)
Yummy :)
If you enjoyed this video, Please subscribe :) youtube.com/geoffmobile
For more videos from me please visit my Vancouver Video blog at geoffmobile.com
Cheers!
Geoff
geoffmobile.com
A Birds in the House Production
birdsinthehouse.com
Technical notes:
Camera: Sony Cybershot DSC-HX30v with Tungsten white balance, EV-0.7
Edited with Adobe Premiere Pro CS5.5 on a Windows 7 Dell PC (Intel i7 and USB 3.0 for a faster workflow).
Bye for now!!
Geoffrey
Related Posts: