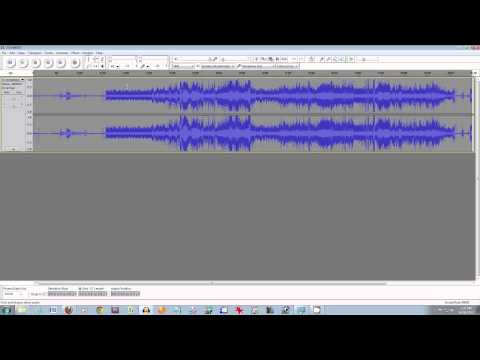 How to Master Recorded Audio using free software tools – tutorial by Geoffmobile.com
Geoff Peters from geoffmobile.com presents a free Tutorial on some basic Digital Audio Mastering techniques.
Learn how to make your voice or music home recordings sound better using freely available software and tools.
Free Software Used in this tutorial:
Audacity: Free Audio Editor (includes SC4 compressor, Normalize, etc)
For PC or Mac:
George Yohng's W1 Limiter – for PC or Mac
www.yohng.com/software/w1limit.html
Alternative W1 Limiter Download – for PC only. (scroll down to Betabugs W1 Limiter):
www.betabugsaudio.com/plugs.php
Thanks for watching this tutorial! If you have any questions or comments, please leave them below this video! :) thanks!!
If you enjoyed this tutorial please subscribe to my channel here on Youtube for more videos from me.
Cheers,
Geoff
Additional notes:
In digital audio, in a signal such as a recording of a song, the loudest possible note you can represent in the signal peaks out at 0. A softer note will be represented with a peak at a lower number, such as -12db or -6db, etc. Anything above 0 will be recorded as buzzing or a strange noise because the signal is actually being lost (it's also called "clipping"). So you don't want to set your gain too high or else you ruin your recording with horrible buzzing / distortion that occurs if your signal exceeds 0. Usually when recording, you want your peaks to be recorded at around -12db, but then in mastering you usually use what's called a "limiter" audio processor to increase your peaks right up to -0.4db or so (i.e. very close to 0 but not touching 0). Also the way the ear perceives loudness is not affected so much by the peaks of the audio signals but by the build-up of energy in the signal that creates a vibration in your ear (e.g. the average loudness). This energy buildup is usually measured as well, and in Audacity (a good free program) you can use a Limiter add-on to increase the average loudness. Some mastering engineers increase the average loudness of the climactic sections to around -10db or -11db. This creates quite a loud and punchy mix. But some pop tunes or dance will keep the average loudness that high for the whole song, whereas a jazzy recording may only do this during important moments.
How to install W1 limiter:
For PC's:
The W1 Limiter (George Yonhg's) should go in the Audacity Plug-ins folder inside the Audacity installation folder (not the LAME folder) On Windows, this is usually under Program Files (or Program Files (x86) on 64-bit Windows); on Mac OS X, it is usually in the "Applications" folder. To display the newly added plug-ins:
Go to the Effects Preferences
Under "VST Effects", put a check mark in "Rescan VST effects next time Audacity is started"
Exit Audacity and launch it again.
New! I've created a tutorial video which shows how to install W1 Limiter. Please check it out here: www.youtube.com/watch?v=cA8w2oHe8xo
I realize that installing W1 Limiter can be a challenge for a lot of people who are viewing my tutorial, so tonight I made a new tutorial which explains how to install Audacity and W1 Limiter on Windows 7 64bit computer. Please see: www.youtube.com/watch?v=cA8w2oHe8xo
For newer Macs:
try this: To install, unzip W1.component.zip to /Library/Audio/Plug-ins/Compon­ents
Then select rescan in effects preferences and restart Audacity and it should appear! (may have to restart your system too?)
Technical notes:
The music used in this video was by the Vancouver electronic band called "Laundryman". Visit them on the web at:
** and please Like them on Facebook at: facebook.com/laundrymanmusic
The audio for this video was recorded using a Zoom H1:
Screen Capture software used was the free "Camstudio":
Video edited with Adobe Premiere Pro CS5.5 on a Windows 7 Dell PC (Intel i7 and USB 3.0 for a faster workflow).
A Birds in the House Production
bye for now!
Related Posts: